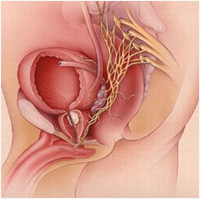 Prostate Cancer Treatment in Delhi
Prostatic enlargement can also be due to cancer. The symptoms of this are indistinguishable from the benign enlargement .
Diagnosis is made by a combination of physical examination ,blood test (Serum prostate specific antigen) and biopsy. Once the diagnosis is established the next step is to stage the disease.
Staging of prostate cancer treatment is done by CT / MRI scans of the abdomen. AS this cancer has a tendency to spread to the bones , a scan for bones is also important. The stages of prostate cancer could range from 1- 4.
Treatment depends upon the stage of the cancer
| | | |
| --- | --- | --- |
| 1. | Stage 1 - options are | Surgery |
| | | Radiotherapy |
| 2. | Stage 2 - options are | Surgery |
| | | Radiotherapy |
| 3. | Stage 3 - options are | Hormonal therapy |
| | | Surgery after downstaging |
| | | Radiotherapy after downstaging |
| 4. | Stage 4 - options are | Hormonal therapy |
| | | Chemotherapy |
Prostate Cancer Surgery in Delhi
Surgery for prostate cancer involves removal of the entire prostate along with the seminal vesicles. The urethra is joined to the bladder directly. This takes care of the malignancy.
The operation can be performed by means of open surgery , laparoscopy, robotic assisted laparoscopic surgery.
Radiotherapy is treatment of cancer by radiation which kills the cancerous cells. It is delivered by means of external radiation or brachytherapy. Although radiation does not involve any cut it can have many side effects. The results are also inferior to surgery.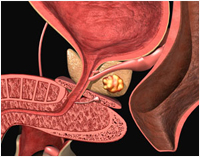 Hormonal therapy is given to bring down the levels of the hormone testosterone which is responsible for progression of prostate cancer. This treatment is reserved for advanced cancer and involves injections, tablets, removal of testicles(Bilateral orchiectomy).
Chemotherapy is reserved for advanced cases which become resistant to hormonal manipulation.
Dr Anshuman is now being considered as one of the best Prostate cancer surgeon in Delhi and India as well.
Services