Holmium Laser Treatment for Prostate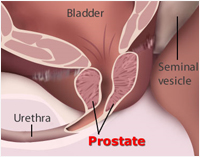 Holep ( Holmium laser enucleation of prostate).
This is a modality in use for the last 15 years. This involves the use of Holmium laser to remove the enlarged portion of the prostate. This procedure is also done endoscopically . The main advantage of this procedure is that it can be done for high risk cardiac patients . Another advantage is that size of the prostate is not a limitation for this procedure.
This is the most promising technique among the newer modalities for the treatment of enlarged prostate.
Advantages of Holmium laser over TURP
TURP is a conventional treatment for enlarged prostate. This is also done endoscopically. The prostate is removed by cutting it into chips using electrocautery. It is difficult to determine the endpoint of the operation
The advantages of holmium laser treatment are many:
There is minimal blood loss thus the need for blood transfusion is practically nil. Holmium laser surgery can be performed even in patients who are on anticoagulants.
High risk cardiac patients, patients with respiratory problems can be dealt with holmium laser.
Patients with cardiac pacemaker are very difficult to operate with traditional TURP due to
Any size of the prostate gland can be treated. The upper limit of TURP is 75-80 gms
The medium used in holmium laser surgery is normal saline thus there are no chances of electrolyte imbalance.
The side effects of TURP like bladder neck contracture impotence are less with laser surgery
Tissue removed with laser is equivalent to that removed by open surgery thus holmium laser surgery gives long lasting results
Services