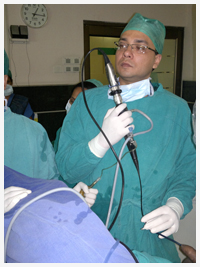 Holmium Laser Treatment for Stone
RIRS or Retrograde intrarenal surgery
This is a minimally invasive treatment for ureteric and renal stones. This form of treatment does not involve making cut on the patient. A flexible scope is inserted into the patient's urinary system through the natural orifice. The doctor can visualize the entire urinary system through the high definition camera system attached to the scope.
Stones located in any part of the urinary system can be broken by using holmium laser and extracted using miniature baskets.
Even small tumors in the urinary system can be diagnosed by flexible ureterorenoscopy and treated by holmium laser.
Stone Holmium Laser Treatment in India
URS or Ureterorenoscopy
This is a treatment for ureteric stones. Here a rigid fine instrument is introduced into the urinary system of the patient through natural orifice . The stone can be visualized in the ureter and can be broken by various energy sources including holmium laser. The small pieces of the stone can be removed by means of forceps or left to be passed on their own. Sometimes a fine plastic tube which is called as a stent is placed after the surgery and requires removal at a later date.
Services