Prostate Enlargement Treatment in Delhi
Treatment of Benign enlargement of Prostrate :
Medicines:
Alfa blockers : This group of medicines relax the prostatic smooth muscle and help in improving the flow if urine.
5 alfa reductase inhibitors : This group helps in reducing the size of the prostate and thus relief in symptoms
Bladder relaxants : These drugs help in alleviating the symptoms of urinary frequency ,urgency and nocturia ( ie the number of times one gets up from the sleep to pass urine)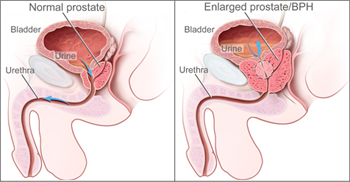 Surgery : indications for surgery are
Poor response to medical management
Recurrent episodes of urinary infection /blood in urine
Retention of urine which fails to medical management
Stones in urinary bladder
Common surgical prostate treatment in Delhi :
1. Turp : (Transurethral resection of prostate)
Conventional surgery for prostate enlargement (prostate treatment in delhi) . Done endoscopically through the penis using electrocautery to remove the enlarged part of the prostate. The limitation of this procedure that it is not the safest modality when it comes to treating large prostates, cardiac patients and patients on anticoagulant medications.
2. Holep : ( Holmium laser enucleation of prostate)
This is a modality in use for the last 15 years. This involves the use of Holmium laser to remove the enlarged portion of the prostate. This procedure is also done endoscopically . The main advantage of this procedure is that it can be done for high risk cardiac patients. Another advantage is that size of the prostate is not a limitation for this procedure.
This is the most promising technique among the newer modalities for the treatment of enlarged prostate.
3. Green light laser : (KTP)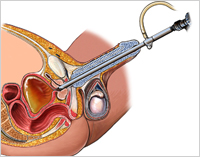 This laser evaporates the prostatic tissue . The major disadvantage is that no tissue is available for biopsy. It is also not suitable for large glands as evaporation is a slow process and leaves behind a lot of residual tissue. However it is suitable for high risk patients.
4. Open surgery :
It involves a cut approximately 5 inches in length over the lower part of the abdomen to remove the prostate. This method is rarely practised now a days. But it may still be of use for exceptionally large prostates.
Dr. Anshuman is best doctor for prostate treatment in delhi.
Services