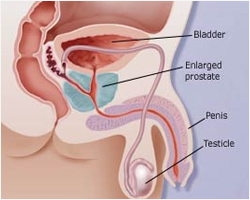 Prostate problems in different age groups
The prostatic diseases can be grouped into infection and enlargement which can also be cancerous. Although infections of the prostate occur in the younger age group the enlargement typically starts after the age of 45 years.
Common symptoms of prostatic diseases are :
Frequent urination, stop and start type of urination
Poor flow of urine, feeling of incomplete emptying of the bladder
Getting up several times in the night to pass urine
Burning in urine
Painful ejaculation
Blood in urine
Decreased sexual drive
Diagnosis
Prostatic problems can be diagnosed on the basis of symptoms, Ultrasound and Physical examination.
Investigatons
Ultrasound
Urine analysis
A simple blood test like Prostatic specific antigen can detect prostate cancer
Treatment
Treatment of prostatic problem depends upon its cause
Services