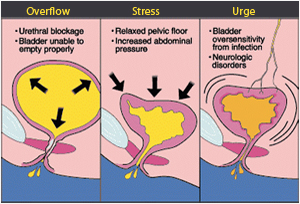 Urinary Incontinence Treatment
Urinary incontinence is involuntary leakage of urine without your knowledge or without your control when you cough, sneeze, or the urine comes out before you reach the toilet. In males most of the urinary incontinence may be due to prostate problems or it may be a result of the prostatic surgery and the initial ways to control the urinary incontinence in males could be medication, certain exercises but in case the urinary incontinence still persists to a problematic degree in the male, one has to resort to an artificial urinary sphincter implantation.
In females the urinary incontinence may be due to several reasons, for example multiple child births, pelvic surgery. It is called stress incontinence if there is leak with cough or sneeze and urge incontinence if there is leak associated with sudden uncontrollable desire to urinate. This is usually due to overactive bladder.
A variety of operations are available for the treatment of severe incontinence which does not respond to medication or exercise.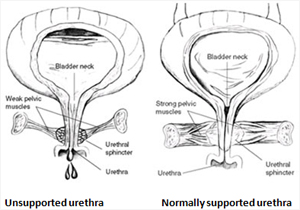 1. Slings : These are tapes made up of polypropylene and placed under the urethra to increase the support. They are very effective to treat female urinary incontinence. The operation is minor requires minimal anesthesia.
2. Artificial Urinary Sphincter : This is required to treat post prostatectomy incontinence in men. Rarely it may be required in women also.
3. Intravesical Injection of botulinum toxin : Severe overactive bladder which does not respond to medication can be treated by this method where we give multiple injections into the bladder muscle to decrease its activity. This is a short procedure done endoscopically under general or spinal anesthesia.
Services